Scuba diving is an enjoyable pastime, but you can't just jump into the water without taking some precautions. First of all, it's important to make sure that you have a reliable dive computer with you at all times while diving. The best air integrated dive computers will display accurate data at all depths and provide information on your depth and elapsed time during your night diving, explorations in the deep blue sea or tropical paradise locations around the world.
Here we have reviewed 7 best air integrated dive computers after our deep research:
1. Our Top Pick:
Garmin Descent MK2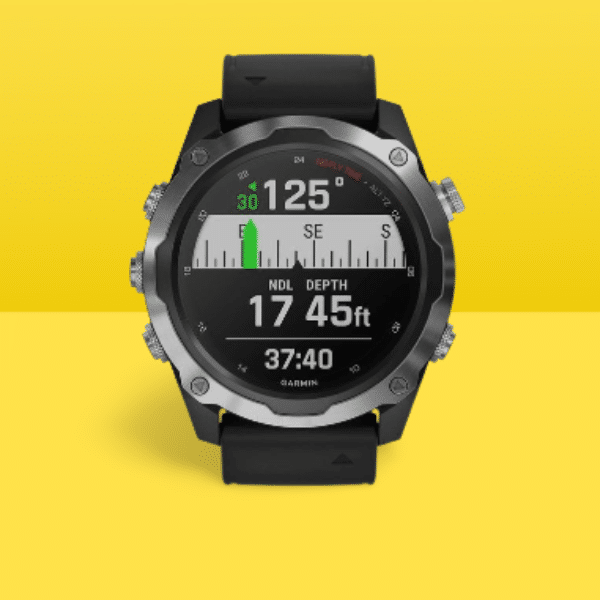 The Garmin Descent MK2 is a dive watch that offers a lot of features, including a built-in support for multiple sports apps and up to 200 Dive logs. It also has a 1.4" color sunlight-readable display, which makes it easy to read in any condition.
The battery life for the watch is up to 80 hours in dive mode and up to 16 days in smartwatch mode.
If you're looking for an affordable but feature-rich dive watch, the Garmin Descent MK2 might be the perfect choice for you!
Features:
Six dive modes
Air integrated
Underwater compass
1.4" color easy-to-read display
Built-in support for multiple sports apps
Contactless payment
Music storage
200 dive logs storage
Pros
Clear and readable color display even in sunlight
Great battery backup of up to 16 days in normal mode and 80 hours in dive mode
The app is also good for this device which can be connected via Bluetooth
The design looks stylish while wearing it
Sports app support
Cons
GPS does not work underwater
2. For Entry Level:
Cressi Donatello
The Cressi Donatello Scuba Diving Computer is a great choice for entry level divers. It has a long battery life, single button operation, strong backlit display and 4 dive modes. The Bluetooth feature allows you to sync your dive data with your smartphone or tablet so you can track your dives online. This is a great option if you want to keep track of your dives and improve your skills.
The Cressi Donatello Scuba Diving Computer has a large display that makes it easy to read even in low light conditions. You also have access to useful information such as depth, time elapsed, dive time remaining and more. The computer is easy to use thanks to its single button operation which means no scrolling through menus while underwater!
The Cressi Donatello Scuba Diving Computer has been designed for scuba diving enthusiasts who want good equipment but still want something affordable enough for recreational use.
Features:
Ideal for beginners in Scuba Diving
4 Dive Modes: Air, Nitrox, Free and Gauge
Long battery life
single button operation
strong backlit display
4 dive modes Including Air integrated mode
Bluetooth
Pros
Support 4 dives
Excellent backlight display
Can be used with only one button
Audible alarms
The battery will indicate if it needs to be replaced, you can replace the battery yourself
Cons
Does not come with extra batteries so you need to buy it separately
3. Best for professionals:
ScubaPro G2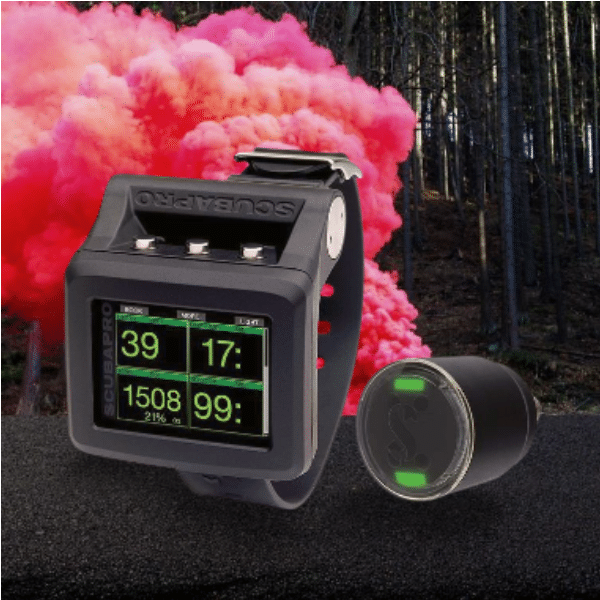 The ScubaPro G2 Scuba Diving Computer is the best air integrated dive computer for professionals. It has an easy to use interface, a large display and extremely accurate readings. The computer also features hoseless air integration and three-button control that makes it easy to use. The three-button control means you can easily adjust your settings without having to go through complicated menus or worry about accidentally changing something while you're underwater.
It is flawless equipment which means it doesn't have any problems with the battery, circuit boards or displays. This makes it one of the most reliable computers on the market today.
Features:
Best for professionals
Multiple dive modes. Scuba, Freediving, Gauge, CCR and Sidemount
Easy to Use
Large display
Hoseless air integration
three-button control
Up to 50 hours of dive time per charge
Pros
Comes with transmitter
Supports up to 11 transmitters
Good build quality
Value for money
4. Best For Technical Dives:
Suunto Eon Core
The SUUNTO Eon Core Wrist Dive Computer with Transmitter is a great option for anyone who wants to get the most out of their diving experience.
It has an easy-to-read screen, with an intuitive interface that makes it easy to navigate while you're underwater. The screen is made from composite glass material, which makes it durable and resistant to scratches and cracks.
The wristband is made from reinforced composite strap material, so you don't have to worry about it falling apart when you're underwater. It also has a 10-20h battery life, so you won't have to worry about charging your computer before every dive!
Check Suunto Eon Core In-Depth Review
Features:
Best Technical
Composite Glass material
Reinforced composite Strap material
Easy to read
10-20h battery life
Pros
Compact and comfortable
You can go on deep dives with it
Available in 3 colors
Lightweight
Easy to use
5. High end:
Shearwater Research Teric
The Shearwater Research Teric Wrist Dive Computer is a high-end device that includes open-circuit and closed- circuit Air, Nitrox and Trimix multi-gas functionality. It also has audible alarms. The 1.39 inch full color AMOLED display is easy to read with a high resolution display and a backlit feature that makes it easy to see even in low light conditions. The Teric's intuitive user interface allows you to easily access information about your dive and adjust settings for your next dive.
The Teric comes with the latest firmware version available (1.4) which includes new features such as a countdown timer for your surface interval and gas switchover option for nitrox mixes when using both trimix and nitrox mixes at depth.
Features:
High-end device
includes open-circuit and closed- circuit Air, Nitrox and Trimix multi-gas functionality
audible alarms
1.39 inch full color AMOLED display
Lighweight
Pros
Cool design
High-resolution display
light in weight
Easy to use
The display is very beautiful
Cons
It cant be used with other manufacturer's transmitters
6. Cheapest:
Shearwater Research Peregrine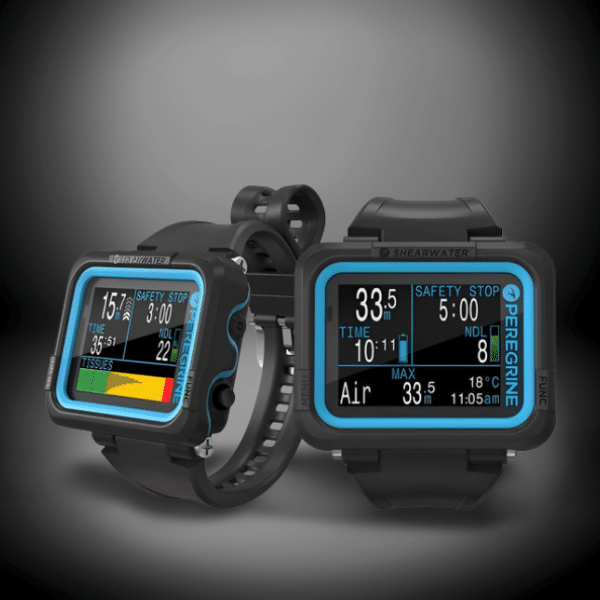 The Shearwater Research Peregrine Wrist Dive Computer is the best dive computer for recreational diving that we've ever tested.
It has a simple interface, which makes it easy to use, and it's one of the most affordable computers on the market today. It's also one of the only wrist computers with air integration—meaning you can use it to dive on air as well as nitrox and trimix gases.
The Peregrine has four modes: Air, Nitrox (single gas), 3 Gas Nitrox (up to 100% O2), and Gauge. It features two buttons that allow you to navigate between these modes easily, without having to scroll through menus or screens.
The Peregrine has up to about 30 hours run time with normal use, so you can go on multiple dives in a day without worrying about your battery running out. And its large screen makes it easy to read all your data while underwater!
Features:
Cheapest with air integration
4 diving modes: Air, Nitrox, Gas Nitrox and Gauge
Two-button interface
Simple navigation
Up to about 30 hours run time with normal use
Multi-gas dive computer
Pros
Cheap price with good features
multi dive modes
easy to use
friendly display
good battery timing
Cons
Appearance is not so attractive
7. Best LED Transmitter:
Mares Genius Dive Computer
The Mares Genius Air Integrated Computer is a new, high-quality dive computer that comes with a lot of features. It has an LED transmitter, which is very helpful when you're trying to find your way back to the surface.
It also has a new Zh-L16C algorithm, which can be customized to suit your needs and preferences. The full-tilt digital compass allows you to see all of your data at once without having to change screens or scroll through menus. You can even set up this computer so that it supports up to five transmitters at once! And if you're worried about running out of battery power during a dive, don't fret—the logbook with multiple graphs is here for you.
The best part? You can get all the information you need in one place with the night mode function and quick tank check feature!
Features:
Supports up to five transmitters
New Zh-L16C algorithm
1000 hours of dive profile at 5-second sampling rate
Night mode function
Map viewing function during the dive
User replaceable battery
Pros
Good design
The capability of up to 5 gases
Can change the menu or see maps while diving
Colorful LED
Good build quality
Cons
Little heavy
The price is bit high
What are air integrated dive computers?
Air integrated dive computers are electronic devices that help you manage your air supply during a dive. They do this by monitoring nitrogen content in your blood and calculating the amount of time you have left before decompression sickness sets in. It also keep track of how deep you've gone, how long you've been underwater and how much air remains in your tank—all useful information that helps make diving safer. In this article, we'll explain what it is, what makes it different from a non-AI model and why it's such a good thing for anyone who likes to swim underwater!
These devices can make diving easier, as they will automatically calculate the amount of gas you have left in your tank and warn you when you need to change it.
Most of these are designed for use with both open-circuit and closed-circuit equipment, which means they can also be used when scuba diving on a rebreather (or other closed-circuit systems).
Advanced & Compact
They are the most advanced and compact dive computers, making them an attractive option for many divers. They can be used as a stand-alone device or in conjunction with a console to provide additional information at the surface. The advantage of using it is that you don't have to worry about losing your equipment if there's no power source available.
They have been designed from the ground up to incorporate all of the features you need into a compact package that is lightweight and easy to use. They're also more expensive than the traditional model, but because they are so compact, they are often considered worth their price tag by experienced divers who want something that fits easily into their gear bag without taking too much space – or weight!
Things to check while buying the best air integrated dive computer:
Easy to use. They are designed so that you can easily log, read dive tables and understand the information on them.
Safe and reliable. It is made with high-quality materials, which makes them safe and reliable for use in the water. This also helps make sure that you don't have any problems with it during your dives!
Durable The newest models of air incorporated dive computers are built to last for years of diving fun!
Comfortable The best part is that they can be worn comfortably during all kinds of diving activities including snorkeling or scuba diving trips because they're so lightweight compared to other types such as wrist mounted "gauge" style compasses found elsewhere on this list (such as those made by Suunto).
Quality and design of the display
The display should be easy to read
The display should be easy to navigate
It should be able to display dive data in a way that is easy to understand
It should be easy to use
Choose between the different modes
The air integrated dive computers have a number of different modes that you can use, depending on the type of diving you are doing. The different modes are:
Free dive mode
Air dive mode
Nitrox dive mode (with oxygen sensor)
Temperature dive mode (with thermistor and pressure sensor)
Gauge dive mode (with pressure sensor) or gauge only – this is usually used for rebreathers as it does not monitor depth or time. If a depth gauge is also required then this should be set to backup air mode instead.
It is worth noting that each type of computer has its own set of features and functions so it's important to find the one which suits your needs best.
Checking the battery backup
A dive computer that offers battery backup through a rechargeable battery or user replaceable batteries will enable you to dive longer. The type of battery should depend on your diving style and the conditions.
Rechargeable batteries can be recharged with a USB cable, but they only last for about 30 hours, which is not enough for long dives. They are great as an emergency backup when there is no other option though.
User replaceable batteries last longer than rechargeables but are more expensive initially, however you will have to replace them in time anyway so it might make sense to invest in this type from the start. They can also be replaced underwater which is useful if you are out of air and need some extra juice for your computer! They can also be replaced by someone who knows what they're doing (but maybe not underwater….). User replaceable batteries are more environmentally friendly than disposable lithium-based ones because they don't end up in landfills at the end of their lives like disposable lithium-ion batteries do."
Know the dive logs offered
How to find out what dive logs are offered by your air integrated dive computer
What is a dive log?
Importance of dive logs
With an air integrated dive computer, you can manage your air supply during your dives.
They are particularly useful if you're a diver who likes to plan and monitor your dives. With this, you can manage your air supply during your dives. This includes monitoring how much time has passed as well as how deep and far you've gone. You can also see how long it will be before it's time to ascend back to the surface by looking at a profile view of your dive data.
Final Words
They are a great way to manage your air supply while diving. But, there are many different options out there that offer different features and functions. So you need to know what your needs are before making your decision on which one of these devices will be best for you. However, our top pick for the best air integrated dive computer is Garmin Descent MK2 because of its sleek design, performance, and maximum accuracy. Happy Diving!
FAQs
Is a dive computer necessary?
The short answer is that a dive computer is not necessary, but it is highly recommended.
What does a dive computer tell you?
A dive computer tells you how long you can stay underwater, how deep you are, and how much air you have left.
Do dive computers have a compass?
Yes, dive computers have a compass. The compass is used to determine the direction of a dive, and can be used to help you find your way back to shore if you get lost underwater.
What is gauge mode on a dive computer?
Gauge mode is a setting on your dive computer that allows you to monitor the amount of air in your tank. It's helpful for situations where you don't want to use your computer, but still want to know how much air you have left in your tank.
Do dive computers factor in a diver's thermal status?
Dive computers are designed to factor in a diver's thermal status, but it all depends on the model.